I wish I wasn't so tired from last week, but I am. I'm fine, nevertheless. But I'm feeling more & more irritable lately. Could be PMS again, or the Mercury retrograde unleashing its wrath before it finally ends this weekend. Despite a wonderful breakfast & a nice cold bath with great-smelling stuff this morning, I cried myself to sleep again. (Well, long story. It wasn't just something I did out of the blue. It's just too heart-wrenching to talk about in detail at this time.) Not even making a quick trip to our usual fantastic
weekend market
yesterday to have lunch with my Breakfast Club helped. I really need a break, & I can't wait for the next weekend.
(Anyway, I had shepherd's pie there in lieu of my staple lasagna, Chinese shrimp dumplings, & my favorite Wagyu beef shawarma, then washed it all down with cold Coke Zero. YUM! I was so full that I didn't eat until this morning, & I think I dozed off just before 9pm last night, hehe, yikes.
Gott Sie Dank!
It was also fun catching the cool resident saxophonist there, who played the Super Mario Brothers theme just before we left, whee! That so cracked me up.)
I'm also happy for the new sheer blue-&-gold starry pouch I got for my Mystic Faerie Tarot deck from my cute Breakfast Club cohort / mommy-figure Joy. :D The original orange organza pouch that came with the set was ripped & I keep forgetting to have it sewn back into place. I'm bad with needlework, as you may know. I'm a disgrace to the female species like that, hehe. I keep forgetting to pick up a nice pouch or two at this novelty store in the mall closest to our office. I forgot I left it in my locker at work along with my old Sacred Rose deck, & so while I was rearranging my cards in the pantry, & my friends had to pick me up to have our perpetual after-shift meal, she handed it to me, & she'll fix my other pouch when she gets the chance to do so, yay. Pardon the blurry shot yet again.
Remember how I wanted the Manga Tarot by Selena Lin & the Tarot of the Magical Forest for my birthday last year? That was also included in my wish list back then. Just when I thought it'd be impossible to score one for myself, my esoteric pal Francisbear was nice enough to tip me where to find one, & it was magically close to work even! I got it reserved, but the first deck I got had the Ace to the Eight of Pentacles missing (gadzooks!) & I demanded for a replacement. Good thing the bookstore was prompt with the response, & so on my actual birthday I went back & got my final set. :D
The
Mystic Faerie Tarot
deck is so light-hearted & easy on the eyes, & it's my other most popular deck, next to my Golden Tarot by Kat Black. The latter, however, is a more morose choice, but people seem to like it because of its golden edges & classic appeal. The former is good to use around teenagers (
my youngest querent ever was 7 years old, though
!) & girls/women in my age bracket. The last card I got from it earlier before putting it back in order was the Knight of Cups, which was surprisingly what the last card as well in the Sacred Rose deck. Too bad I can't find images of that anywhere, but oh, look, there's a
2009 Calendar
for the deck from the illustrator. The Knights in the deck are female, btw, as are the Knaves. I like the Knight of Swords best, who looks prettiest, methinks, but the Knight of Cups was a welcome sight to behold just the same, if we were to consider its
divinatory meaning
.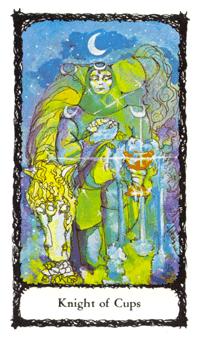 Lo, & behold, the proverbial knight in shining armor, all dreamy, hopefully with love.
Taken from the Sacred Rose Tarot deck.
I hope it also means I could have a chance to visit Spain one day, haha, especially with this
blurb
I got in my e-mail.
Madrid, here I come
! Seriously, it's one of the least thought-of destinations I have in my list, as I'd rather bask in Iceland for the full exotic experience, but I can't help it. I wonder if I'll ever get to travel with a lover there, HAHA, or meet someone who could eventually sweep me off my feet when I least expect it again. Not that I really care. I still find romance & dating cheesy, even if what I feel now is like what Kristin Scott Thomas said in
Four Weddings & A Funeral
,
"Well, the truth is, I have met the right person, and he's not in love with me,
and until I stop loving him, no one else really has a chance."
Sigh. That's one quote from that movie that will forever be etched upon memory.
Maybe I should just really get more sleep to prepare for the whole new week ahead. I love what Tarot.com has to say about what's in store for me
this season
:
In your 9th House of Expansion, the Sun stirs up your desire to step outside your comfort zone and explore new territory. Unplug from the busyness of daily life to travel, meditate, and get a higher perspective on ordinary reality. The Super-Conjunction helps you identify what you need to release to free up more space for fun, romance and creative pursuits. Take the risk of making your happiness a top priority.
So dead-on, I tell you. I'm revisiting yoga & food trips like what I keep babbling in my older posts. I'm also focusing on my Warbook mage (Level 46 FTW!) especially with all these other empires to pillage, hehe. I'll just make do further with what I have & try not to kill myself during off-peak hours. My
horoscope
was so accurate, too, for yesterday:
Saturday, May 23rd, 2009 -- You may be tired of always being the one who's nice to others while they don't even notice much of what you do. This is tricky ground, for part of your graciousness comes from the fact that it really makes you feel good. If you're doing things for social approval, however, then your frustration can grow when you're not being appreciated. Instead of harboring any resentment today, just retreat a bit until you are in better spirits.
Yeah, I'm taking a long break, lest I'd snap again & totally lose it. Which brings me to my
actual topic in mind
, but I guess that will have to wait until tomorrow.
For now, let me just note how this is an interesting take on
clutter
:
The location of clutter in an environment, reveals the content of a person's inner struggle. The absence of disorder empowers us. As we are connected by energy to everything in our environment...you might want to review the following and check to see where you may be struggling in your life:

Entrance door = Fear of relationships
Inside closets = Unwilling to examine emotions
In Kitchen = Resenting/overwhelmed by caretaking
Next to Bed = Desire for change or escape
On Desk = Frustration, fear of letting go, or need to control
In a corner or behind a door = Detachment from others
Under a piece of furniture = Importance of appearances
In a cellar = Procrastination
In an attic = Living in the past
In a garage = Inability to actualize
All over = Lack of self-love or anger and self-loathing
Oh, heavens, no. :))