OK, finally, so the Sun's in Virgo now, & hopefully I can get more things done! I've been so distraught & drained since my last update, even if I did get a full week off to myself. But the Leo influence was fun, actually, especially when I got more kids interested in tarot at work. Thanks, guys! ♥
But I really would like to thank my best friend in high school Cres for these adorably macabre
new decks
which I've fallen hopelessly in love with this summer:
Yeah, so I finally got the
Deviant Moon & Phantasmagoric Theater
tarot decks, & I'm really happy now. It was also wonderful seeing Cres again & finally meeting her new hubby & their firstborn, but I wish I got to spend more time with her. The weather was just too crazy, so was my work schedule, & finally it was the time of the month for me on the day I was supposed to hang out with her & Jean again last weekend at her place, just like old times. Yeah, I was PMSing since my last post. It's that bad. I miss you, mumsie! I have so much to tell you! But pardon me for my single-grrl woes, as I really still feel like I'm the same 12-year-old you've met nearly 18 years ago. Goddd. But thanks for being the sweetest, as always. :D I hope to see you & your family again soon! ♥
The
Phantasmagoric Theater Tarot
cards are actually huge, so they're quite difficult to shuffle, but my boss likes them very much, & it's nice to know that they're influenced by my first ever quirky deck, the Tarot of the Witches. ♥ My most favorites are
The Chariot
, the
Ace of Cups
, the
2 of Cups
, the
10 of Cups
, & the
Queen of Cups
, as usual (the only Queen in the said deck I can relate to in full, aside from the
Queen of Swords
). LOL.
The Sun & Moon
cards are delightful to look at, too, & notice the congruency between
the Fool
&
Death
cards. While the
5 of Swords
reminds of my brother in his gas mask in his room while working on his model planes, the
6 of Swords
looks oddly familiar, even if I've never really snuck out into a long winding staircase before, hehe. The
9 of Swords
is disturbingly enchanting, though, while the
3 of Cups
makes more impact than the proverbial Wish card aka the 9 of Cups. When I asked about my lovelife,
the Emperor
popped up along with
the Star
. I wonder who he is IRL. Eeep.
*sigh*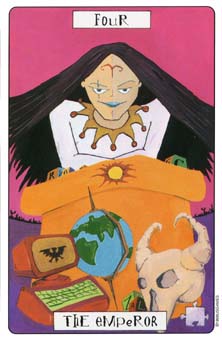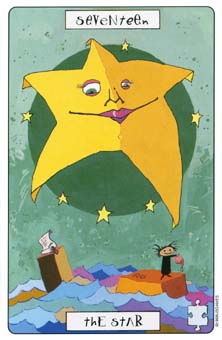 I love the prelude to its LWB (Little White Book), though, plus the striking non-traditional interpretations to some of the cards in the LWB.
"Welcome. Imagine yourself as an actor, placed in a theater at birth. You have been invited to join millions of other actors, to take your place on the stage known as Phantasmagoric Theater. Every scene in the script has been carefully crafted, & you've learned your cues. If nothing goes wrong you should be able to sail through your performance until the final curtain call. But things can & do go wrong — perhaps there is interference in the sound system, your costume is uncomfortable, or you're unhappy with the scenery. So you begin to make adjustments, & in doing so, cause minor changes to the outcome of the play.

"Using tarot, you can connect yourself through a psychic process back to the original script, & recognize the deviations you may have made to the performance.

"Envision Phantasmagoric Theater Tarot as a doorway into your life. The curtains open, revealing the Fool, who invites us on a journey of spiritual fulfillment."
As for the
Deviant Moon Tarot
deck, & I got the Premier edition with the rather freaky Lunatic spread, the cards are actually glossy; therefore, rather hard to shuffle, too, but they're just the right size & the colors are just too much to miss. The LWB's card meanings are akin to the Tarot of the Witches's, so, bleargh. But there are a lot of astonishing meanings & insights to be gleaned by just reading the cards per se that anyone shouldn't miss. In my case, for one, the
9 of Wands
is a most lovely depiction of the traditional meaning, that we shouldn't give up even if everything else looks hopeless. Then the
6 of Pentacles
is also a poignant reminder that we really shouldn't give away too much of our personal energy & love to the point of depleting ourselves completely. The
Ace of Pentacles
is a rather harsh warning that we shouldn't cling to the temporal & material too much, but indeed, we should also safeguard whatever's left of our resources. & the
6 of Wands
looks more haunting than jubilant or the like. I love looking at it everytime, though. It's my most favorite card, along with the
Ace of Wands
. Among the Queens, I love the
Queen of Wands
best, even if I keep getting the
Queen of Cups
(what else is new? LOL) there. But when I asked the cards to describe me there (because sometimes you can ask them what you look like in their perspective, actually) I got the
2 of Pentacles
, illustrated with a sexy belly-dancer in black holding silvery 2 pentacles in the air. WTH. That was just too funny. However, I can relate more to the
Page of Swords
,
"who is skilled in (what he does) but is underestimated because of his youth"
& the young witch in the
7 of Pentacles
practising her magic skills on a dead tree & making silvery pentacles (what else?) appear on the branches. My most favorite Trump, card, btw, woul have to be
Temperance
, as depicted by a gentle blue angel. But my staple choices (
Death
&
the Devil
) are intensely portrayed, which I like.
The Lovers
card is the most provocative yet, btw, haha, just when I thought the Tarot of the Witches' & Gilded Tarot's depictions were already too much for prudish me.
I really wouldn't wonder any more how the Deviant Moon Tarot deck was voted as the BEST choice for 2008 in
Aeclectic.com
(But oh, look, my
Tarot of the Magical Forest
deck made it to the list as well!)
This was taken last August 14 by a new young Chinese female Scorpio querent:
You will see most of the cards I've just mentioned in this post. I used my usual
Planets spread
for her, & from what I can remember in her layout, the 9 of Wands was her Self card. 'Nuff sed.
I have yet to bond more with my new babies. Happy birthday to me, HAHA! But I keep rediscovering my older decks, like my
Sacred Rose Tarot
, & I must remember to share the full details of this last reading I've done for a wonderful Aquarian friend (with a very powerful astrological profile: Libra moon + Gemini rising, for starters, yikes!) I hope to meet her
Thoth
deck, though, soon, especially with its Knight of Pentacles bugging me again online:
I have this small Secrets of Tarot book with a few Thoth deck images to work with, so yeah. I'm kinda liking the
free online reading
using that deck, too.
"If it is undesirable, you must find a way to avoid it.
If it is desirable, you must simply follow the course shown by the cards."
I can't find my Sacred Rose guidebook, though, but it should be around here somewhere. Will declutter for real this week. It's the last week of my prolonged forced leave from my day job, haha, so I better make the most out of it.
Anyway, my
Libran forecast
looks very hopeful in this phase:
"Your work this month may be primarily on an internal level, as the Virgo Sun activates your spiritual life and dream world. It's time to clean out the contents of your unconscious, in search of your highest vision for yourself. Pay close attention to your dreams, which can offer valuable insight into your true path of service. You might need more rest than usual, and time for engaging your imagination."
I sure hope I can rearrange my room at least with much success, LOL. & yes, I've finally made up my mind that I will become a full-fledged tarotist, astrologer, geomancer, florist, & scented candle-maker in the next couple of years!
I also hope you'd all vote for my blog
here
. Just click on this badge, & voila!
I've given out free, if not discounted, readings already to those who've cast their votes. I'll be raffling out the rest of them next week, so, yay. If you've just had a reading from me & you win another one, you can pass the chance on to a friend or any other loved one who'd want to try it from me! I'm also giving away a Tarot Basics gift set (with cards & guidebook) to one lucky mofo soon, LOL. Leave a comment if you're interested with that gift set. I can only give it away to someone who'd be hellbent on learning how to read the tarot, actually. More free readings will be raffled away on September 25 (haha, I'm always emo on my birthday!), so stay tuned!
For now, let me leave you with
this nice online discovery
this month, thanks to Twitter.
"The truth is that healers do not heal; neither do doctors. It is the patient that heals himself. What healers & doctors can do is facilitate the natural healing processes within the body/mind of the patient. Tarot does not see in the future, but what it does do is help the client see what is going on in & around him, & how he can change, transform, work with or around these situations, thereby creating a better future (how better the future might be is of course a value judgment made by the reader).

"There are no magic bullets, but the magic will happen in the process of the tarot dialogue (it is no longer a reading), for those cards that were hidden will now come forward to reveal those hidden aspects that contribute to the total picture. A particularly satisfying aspect to this approach to tarot is that when clients return the progress they have made in their own life is obvious to see. Consequently the next tarot reading builds upon the foundations created by the previous reading, creating new challenges, insights and new futures."
Ahhh, yes. That's what Tarot's really like, actually. Have a great week.