I wanted to update this blog quickly as soon as I got home this weekend but all I could do was pass out. I was able to visit my youngest sister's grave again after the longest time, though, & I know I should follow my own advice, especially with all the please-visit-your-departed-relatives-today vibe lately. (No, seriously!) I realized I haven't offered any Masses yet in her honor, & I definitely will this Sunday. Her birthday's on the 16th, & I need to do something for her on that day, or at least on the day before. An eerily pink shrub just grew beside her epitaph, outside her plot, & I'm glad that despite the horrendous weather changes the pot of white orchids I left there last year is still flourishing. I have many thanks to the stead caretaker at the local memorial park as he's been very patient & loyal to us. He wasn't the original guy, but I'm so glad I got him employed & even the park owners have high regard for him. I noticed him one time as he was busy at work even while it was drizzling one afternoon. He reminded me of the guy in this 8 of Pentacles card (yes, complete with hat & shovel & the tree in the background) that when I got the chance, I chose him quickly: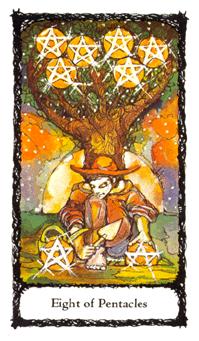 I thank the heavens for everything, especially regarding this matter, & I myself can be at peace.
Speaking of graves, there was this rather amusing British movie that I was able to watch on cable a few days ago. It was called
Plots With A View
(but known in the US as
Undertaking Betty
) & it showcases Albert Molina, Christopher Walken, & Naomi Watts, & even cameos of Jerry Springer LOL. It's one of my all-time favorites now because it's funny & insane, but I find it more amusing to have the movie's theme VERY relevant to my predominant tarot subjects lately:
How far would people go for love? Will we truly live happily ever after?
Which brings me to the subject title of this post… I would like to share what Claire Danes wrote for one of Neil Gaiman's graphic novels about the most popular Endless character yet, none other than my favorite quirky Death…
What if Death is a person?

This friendly, people-loving Death is not scary & far away; she's around everyday enjoying stuff. She's not here to punish or kill us, she's here to help us figure out how to live before we need to go.

We think Death is a bad thing, but here she's the best kind of pal; she makes the choice clearer for us & tell us by her example that obsessing about things like violence & greed & prejudice & loneliness keeps us from being close to people & having fun & getting our good work done: it's wasteful of our time here.

What I appreciate is, is that Death never tells the people she is with what to do. She accepts everyone & understands why the way they are. She likes people (even if they are sad or old or young or nasty) so that they really begin to trust & like themselves, too, &, liking themselves, instead of ending they can start beginning.
& I guess falling in Love can actually feel so much like dying in more ways than one. & it feels like I'm doing Death's job more often than not. :o
Anyway, last weekend was a lovely time to discuss
auras
, Jungian psychology, dream interpretation (I actually can do a bit of this for others, but I drive myself crazy when I try to analyze my own REM sequences),
inner dance
, Greek mythology, past lives, virtual realities, cultural art, astrology, friendships, & even the importance of sex to the psyche (ooh, tantra?) LOL. Scheduling an impromptu session with someone who turned out to be one of the most wonderful women I've ever met in my lifetime was very much rewarding. To think I've never really liked a lot of women, pfft. But it was so surreal having to spend time with an older, funkier, sassier, & sweeter version of myself (not that I'm declaring I'm worthy of comparison) who's already living my ideal la vie boheme et cosmopolite; & having the well, time of my life enjoying topics I could rarely talk about in broad daylight (aloud & in person, at that!) She definitely reminds me of the World card, dancing her way to enlightenment, & leading others to the same path while she's at it. Which reminds me, I will never look at this particular World card the same way again!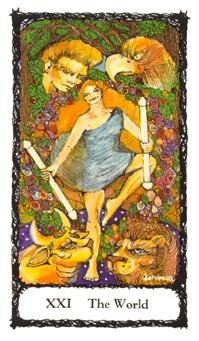 It was a good thing that I was able to take my Sacred Rose Tarot with me that time. I was thinking of leaving all my decks behind at home anyway before I went to work that night. Talk about most eventful.
Anyway, can somebody tell me if Fox Crime's
Haunting Evidence
TV show has already helped solved a case? It's my favorite TV show but I find it rather frustrating to not know if a case could already be wrapped up with the psychic profilers' efforts. It's nice to know, though, that
Carla
&
John
are really reputable in their line of work.