Dear Ayame,
Here is your horoscope for Saturday, August 2:

Ah, what a perfect day! The day of the Dog combined with the impact of the elements makes this day the best day of the year for you. Take advantage of this in as many ways as you can, keeping in mind that focusing on your strengths will indeed create optimal results. Do not cower from new challenges today, as others will notice your energy.

LIBRA
Sat - 2 Aug, 2008

Life is not always about what you can get, it's often about what you can give. If you get the chance to be charitable this weekend, put your hand up and say "yes".
Haha, totally accurate. Horoscope readings are so much more fun to read when the day is actually over. & the Tarot Fest in Eastwood City was indeed awesome, even if I was late for an hour. Work got the best of me, as I had to schmooze with coworkers & re-rearrange my decks. I didn't even get enough sleep since Thursday. I didn't even have enough time to fix myself up for the gig but I think I survived. So far, I'm happy, even if I got my phone broken & my clear quartz crystal missing. Again, I would like to thank RF Rubin for letting me be a part of it. I like his aspirations of getting a new occult movement locally on the rise, especially with young, hip participants surfacing, plus a newsletter for modern-day practitioners while they're at it, but I wonder how it will fare out. Hopefully by next year everything will be in full force. I'm so happy to have met the rest of the gang, & I knew I should've met up with them earlier. Everybody's so easy to warm up to — Fenrir, Juno, Nona, & Tristan. I really should be meeting up more often with like-minded people. & I can't thank my own esoteric friends Sunshine & Francis enough for checking us out & sending out much love & light amidst that rainy Saturday night. It was perfect timing, just right after
Lugnasadh
(Lammastide).
I also would like to thank my friends Ram & Rachelle at work for being so supportive at the last minute on my way out. I am intensely grateful, & I would miss you guys if you'd go away.
Of course, I would also like to thank my clients for bearing with me. I would like to read longer for them soon, if they remember to keep in touch, that is, hehe.
The predominant theme in my readings that fateful Saturday night was about love, as usual. Personally I'm having issues with that as well right now, so it's rather hard for me, but I find it perfectly understandable. I should go ahead & follow my own advice — will go to church real soon & ask for my forever loving Mother Mary's guidance & intercession. Anyway, it's funny how friends who come in for a reading actually go through the same thing. Then I'd end up saying the same thing that I already mentioned to the first person who had a reading to the point of it sounding like canned speech. That's what you call synchronicity, actually. I hate spiels like no other, even if they do prevent me from rambling, but going verbatim isn't something I really enjoy, seriously, even if I do like quotes, so I hope people don't think I'm just pulling a fast one on them. I like descriptive decks very much, but I also use them for my clients' benefit & sanity.
Now it drives me crazy when things get a little bit too vivid during readings. But you gotta admit, it actually turns out to be very useful for understanding my clients' situation & thus coming up with solutions to help them go along with their lives. But it really does bother me sometimes, & here's what one client had to say about it:
Chel: alam mo ang striking sa reading mo
Chel: ikaw lang ang nagreread ng may sex
Ayame: meh sex talaga ever since 2005
Ayame: hahaha
Akane: tangina
Chel: oo haha
Chel: pero totoo
Chel kasi di ba nagpapa read naman din ako
Ayame: hahahaha
Ayame: ampucha yan
Ayame: i'm so much of a prude
Pardon me for my profanity, but I'm into cusswords that way sometimes, heh. Yeah, I know, I'm a walking contradiction like that. & to translate, my client thinks that what makes me stand out from all of her other readers is that I can talk about sex (OMG WTF LOL LOL LOL what is the world coming down to?!) & conception openly, at least during a reading session. I have no idea how it came to be, either, but it's always been like that, & I even read about STDs once. Crappy, I know. While I myself have yet to come to terms with my own sexuality (what sexuality?!) I find myself helping other people resolve theirs! This is crazy. & it doesn't help that I have to look at
these
cards last night, no thanks to Sunshine! OMG, the Empress card from the Manara deck is most fascinating, indeed, LOL. >:D
But my card for the night after all the fuss was
Temperance
. Rubin did say I was such a paradox, but that's just being my usual torn Libran self, I suppose. It's hard trying to bridge the gap, so to speak, & by going into this full-time, I wonder how bigger the gap will get. But I don't mind, having the best of both worlds (& living a rather double life while I'm at it) is actually getting to be so much fun. Life's getting too short for any more hangups. Now all I have to do is learn how to integrate both worlds more smoothly. So far, I always thought of this card as female, thanks to my Tarot of the Witches & Mythic decks.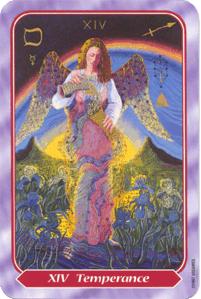 The angel in the Spiral deck looks pretty much female to me, too.
I will be working on past-life readings more closely from now on, but I have yet to unravel my own supposed past life, which I think already manifested itself in a dream a few years ago.